Americans of Japanese Ancestry War Veterans Tribute
Researching AJA Veterans-KIA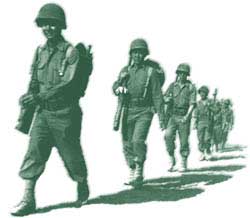 Background:
Several years ago, 442nd vet Mits Kojimoto of Company H from San Francisco began his quest to find his troop buddy John H. Yamamoto (he thinks from Sanger, CA and later from Poston Detention Camp) who was killed in action in Italy in July of 1944. Since then, Mits has been scouring through cemetery records and gravesites at Golden Gate Cemetery, San Bruno, looking through the Poston camp newspaper, and asking at 442nd reunions. Despite all this, he has never been able to find where his buddy was buried. Knowing that others like himself may be looking for a friend or family member, Mits and Jim Yamashita of Los Angeles have compiled an extensive list of KIA's and their burial sites in Italy, France, San Bruno, Presidio, and, of course, Punchbowl in Honolulu. Eventually, the list will be made into a black granite monument of World War II KIA's to be erected at the Japanese American Cultural Center in Los Angeles.
On occasion, our visitors here at the National Japanese American Historical Society have inquired about a long-lost uncle or family friend in the 100th/442nd killed in France or Italy. They may know their name, but would not know their Company or where they were killed or buried. A number of them have asked for our help on the occasion that they may be able to visit their gravesite while touring Europe.
The list and gravesite markers compiled by Mits are provided to you in an effort to bring closure for the friends and families of Nikkei KIA's and to make sure that the John H. Yamamoto's are being taken care of after they took care of us and our country.
Please help us and others by adding to our knowledge base. Perhaps Mits may find his buddy.
Mits Kojimoto was NJAHS' accounts manager from 1986-1988.